Adaptability is one of the major keys to success in training and racing- and any weight management or exercise plan.  Everything looks great on paper, but when life happens, we have to adapt, quickly and sometimes creatively.
For many, a hitch in the plan causes chaos and the subsequent "quit". When the Holidays arrive, and you find yourself at a party night after night, it is not the time to quit. Rather, adapt.  In the area of diet and nutrition, put together a plan of action for yourself.
1. If you feel entitled to eat too much or the wrong things, then you must also feel entitled to be overweight. Is that a true statement? Think before you eat. What are you saying to yourself as your fingers hone in on yet another cookie or sweet thing?  "Just one." "Just one MORE." "It's the Holidays." And so on and so on. Change your self talk: "One has 500 calories, I'll take 1/2." "One is enough." "During these stressful times (the Holidays) I should not overeat."
2. Be prepared.  Going to a party is like going in to combat. If you go in to combat with no armor and no weapon, your chances of survival are slim.  If you go in to a party with  no plan of action for protecting your body from the onslaught of food, your chances of survival are also slim.  Go to parties prepared. Start with a YOR MRP Meal Replacement.  It will help keep you filling full and satisfied so you are not thinking you need to eat just because you are hungry.  Plenty of YOR 1-2-3-4 digestive enzymes will also help digest the Holiday foods you are eating, and help you feel full so you do not overeat.  Allow yourself to sample, with your new positive self-talk.  Keep track of how many plates you of food you consume, and be aware that each item will cost you between 100 and 200 calories.
3. Think about your caloric intake on a daily basis.  Snapshot one full day. If you are having a Brunch with family, make that your big meal for the day, and eat light the rest of the day or use MRP.  Same goes for the evening. With a big dinner on the calendar, be sure to eat light throughout the day so you eliminate guilt when you eat just a tad more than you ought.  When you look at your day as a whole- you can plan your meals better.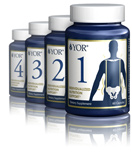 4. Add some extra physical activity.  30 minute walks are a great way to boost activity level, even for seasoned athletes. Walks are also a great way to talk with family and friends on a more intimate basis. Take advantage of the walk!  Yoga is also a great way to increase activity.  Breathing and bodily awareness will also help you keep your eating under control.
5. Be mindful. A great Ayurvedic tip is to place your hand on your abdomen before eating.  Take a few deep breaths with your hand on your abdomen and make the connection to your body so you are mindful of your food.  Pay attention to your body and what it is saying to you in regards to food. Being aware and mindful, raising your consciousness are big steps to keep your eating under control.
6. Do not eat out of guilt from family members or others. Taste foods and eat small portions; do not offend anyone, but do not hurt your self for the sake of others.
In the end, remember: you will be faced with situations in which you must adapt.  Parties, restaurants, events will present you with the worst of all situations: endless finger foods and giant portions of fat and carb filled meals.  You know it's coming your way, so prepare yourself.  Be Prepared. And enjoy the Holidays!
Happy Holidays, and give some love to your body! Remember your body is entitled to feel good!
-mtbchick